Get ready for TGG's upcoming Bonfire Chat: "Market Volatility: Manage Risk and Capitalize Opportunity" Coming up on August 29th.
For this chat, we'll focus on your biggest questions about navigating today's uncertain economy. You don't want to miss it!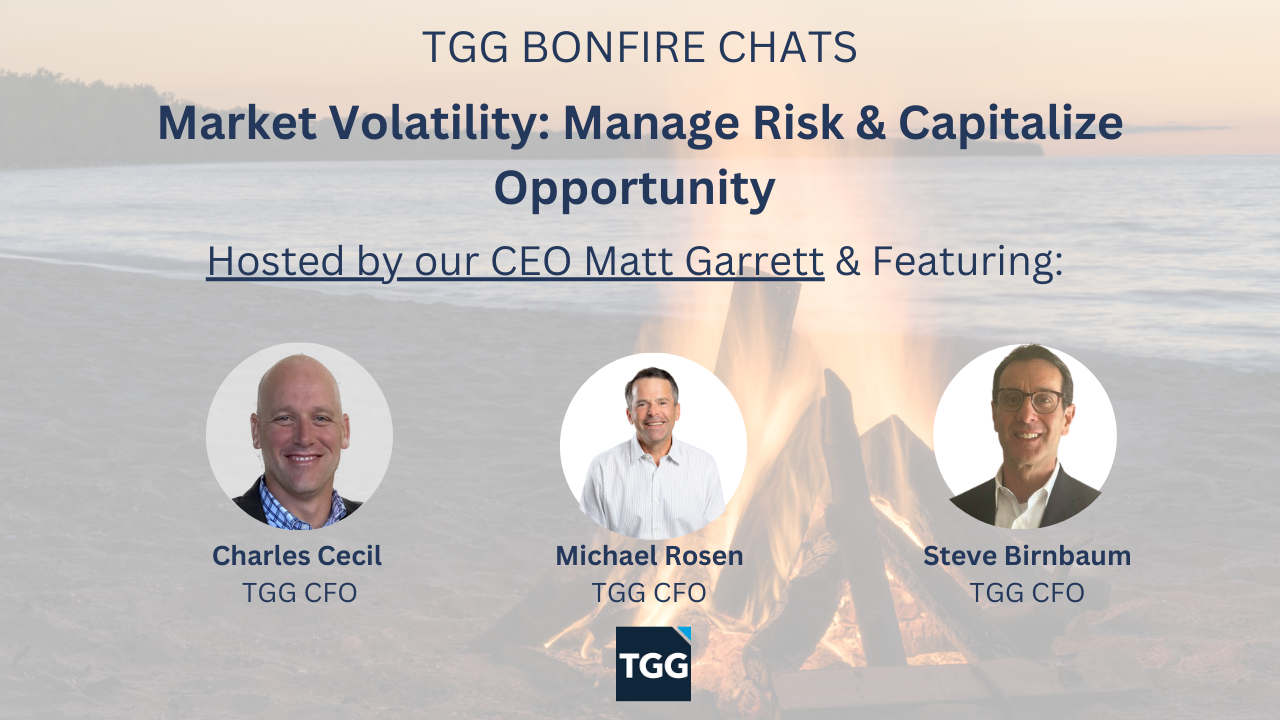 Who's Presenting?
For this Bonfire Chat, you can look forward to insight from these key members of the TGG team:
Matt Garrett, TGG CEO:

Matt has over 20 years of experience in developing small businesses and is committed to helping companies like yours succeed. He founded his first company fresh out of college and went on to become a serial entrepreneur.

Stephen Birnbaum, TGG CFO:

Steve has worked with everyone from startup founders to the leaders of Fortune 500 organizations, and he now provides insight and guidance to TGG's clients. He's previously held positions at GE Capital, Chevron, Puget Sound Energy, and more.

Charles Cecil, TGG CFO:

Charles has extensive experience in financial and operational management, specializing in negotiation, business forecasting, and optimization of a company's key processes.

Michael Rosen, TGG CFO:

A highly experienced CFO with a background in the retail and e-commerce sectors, Michael knows how to steer a company in the right direction. 
What You'll Learn
This month, we're covering your biggest questions about the current economy. We'll share our expertise and equip you to navigate these strange times with confidence and decisiveness. 
How to budget effectively:

Speakers during this Bonfire Chat will go through some of the basics of successful budgeting for your business, offering tips that anyone can use to improve their company's overall effectiveness.



What steps to take after you lose a big customer:

Our CFOs will provide critical info about how to turn the loss of a big customer into a major learning experience that ultimately improves your company's success rate overall.

How to determine if your products are priced correctly:

We'll help you find a pricing strategy that works and fits with the trends of your specific industry.

How to raise capital outside of a traditional bank: 

Our CFOs will weigh in on the best methods for raising capital while forgoing a traditional bank.

How to best position your company to raise capital or take on a partner:

Learn how to put your company in the ideal place for a big move like capital raising or a major partnership based on information specific to the current economy.



How to run your company in this economy:

Get insight from our CFO speakers on navigating the current economy as a business owner, including evidence-based predictions and strategy recommendations.

And much more!
Why Join the Webinar?
You won't want to miss this Bonfire Chat. We've got a lineup of experienced CFOs, helpful answers to some of today's most pressing topics, and tips for running a business in an uncertain economy.
Get access to THREE very experienced CFOs:

Stephen Birnbaum, Charles Cecil, and Michael Rosen, along with TGG's CEO, Matt Garrett, have years of experience helping businesses run at peak performance, even during unprecedented times. This Bonfire Chat gives you access to their wealth of knowledge on a wide range of topics.



Get helpful answers to relevant topics:

If you run a company, big or small, there's no doubt that the current state of the economy is raising some big questions. Our speakers will provide helpful answers, walking you through some of the trickiest aspects of business ownership in the post-pandemic era.



Get tips for navigating an uncertain economy:

Everyone needs some expert help in these uncertain times. TGG's CFO speakers will weigh in on a variety of topics but focus on the unique opportunities presented by a volatile market like today's.
Sign Up Now!
If you want in on insight from some of the industry's most experienced CFOs, sign up for TGG's upcoming Bonfire Chat using this link. The webinar is at 9 AM PST.
https://tgg-accounting.com/wp-content/uploads/2023/07/webinar-2.jpg
801
1200
Kaiti Weimer
https://tgg-accounting.com/wp-content/uploads/2020/03/TGG-logo_whitespace-300x300.gif
Kaiti Weimer
2023-07-13 10:39:34
2023-08-10 09:14:18
Get Ready for TGG's Upcoming Bonfire Chat!